Become a Strength & Conditioning Coach EXCEL GURU!
Join the ETD VIP Membership and get exclusive access! Create the PERFECT Training Software for YOU.
The most comprehensive tutorial guide on Microsoft Excel for strength & Conditioning coaches!
If you are pretty comfortable with Excel, but want to learn some amazing tips and tricks to take your template to the next level, this is for you! Want to learn how to make true auto calculating weights, batch printing, use VBA and userforms, and really turn your template into a true POWERHOUSE!?!
Take a look at just a few of the things you will learn to do:
Full list of Training Modules
See What This Course Will Do For You!
Who is this course right for?
Coaches that are comfortable with Excel, have a layout they like, and know the basics of excel such as dropdowns, basic formulas and more, but now want to take it to the next level. After completing this course, you will earn the official title of Excel Wizard!
ETD VIP Membership Includes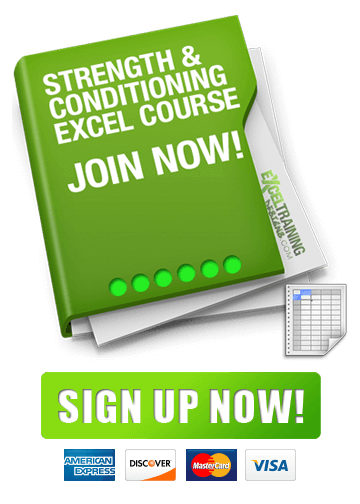 VIP Home Page
Get exclusive access to all this information:
Frequently Asked Questions
Do I need to be a member of the original ETD Course to join?




NO! But, it helps. Knowing the things that were taught in the original course is useful, because it sets the background for this course. If you have a working template, as well as a good foundational knowledge of how to use excel, then you will be fine without it!