ANY GOLD TEMPLATE - $99
9 versions to Pick From to get a layout that matches your style! Features include dropdowns, databases, batch printing and more.  See below!
If you are tired of messing with excel templates, this is for you.
It can do anything and everything you have ever wanted.  Never mess with an excel formula again, never manually type an exercise or athletes maxes into the training sheet again.  Easy, efficient and affordable, the gold strength and conditioning excel template was designed for strength and conditioning coaches of all types.
Gold Strength &
Conditioning Excel Template
Our most efficient and fastest way to get started with an advanced excel template!  Over 150 coaches worldwide have used the Gold template to plan, manage and track their athletes training programs.  With dropdowns for exercises, sets and reps, batch printing, auto calculating weights and an easy to use dashboard, this template is perfect for private sector and coaches with a few teams.
Fast. Easy. Affordable. POWERFUL.
Stop wasting hours on Excel making templates. Make this the last one you'll ever need!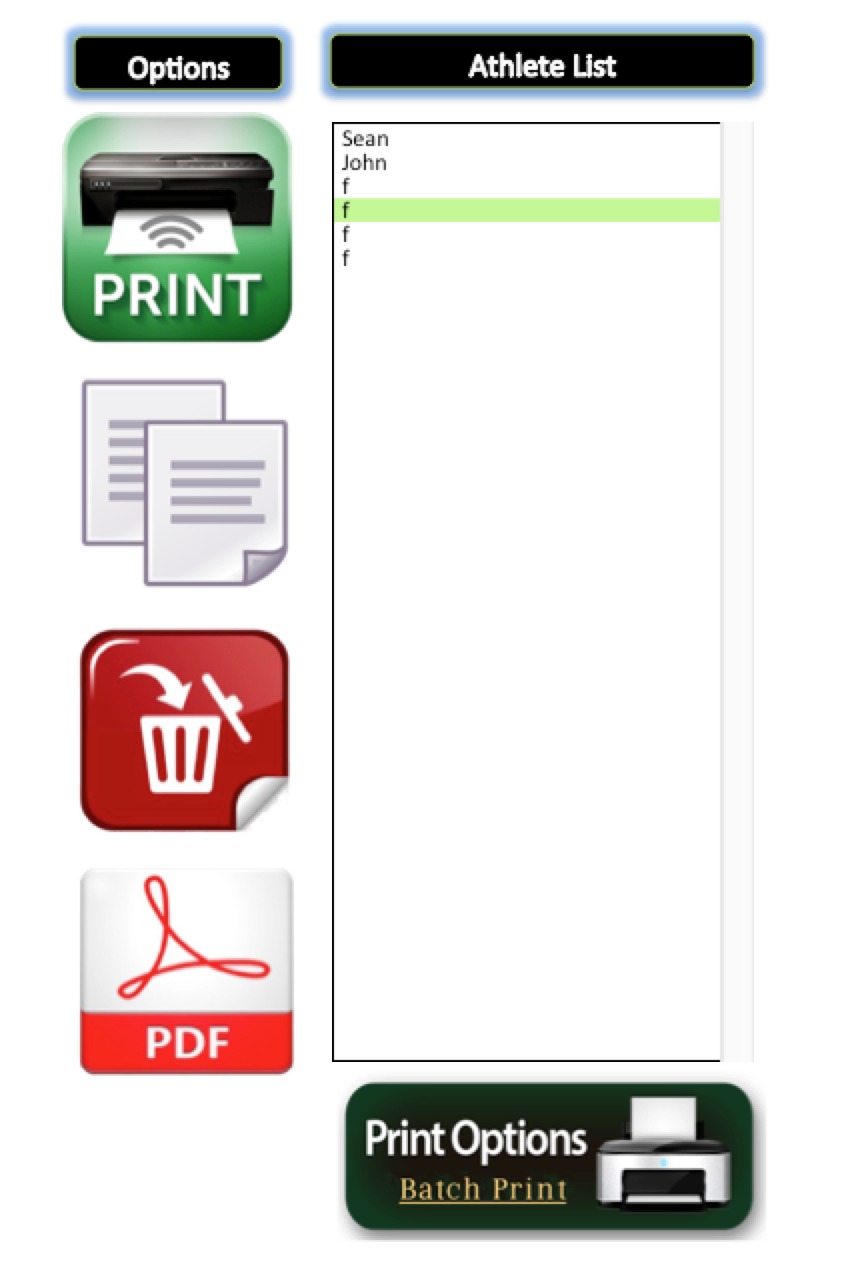 User Friendly Dashboard
ACCESS THE FULL LINE OF FEATURES OF OUR NEW TEMPLATES ON ONE PAGE. WITH EASY ACCESS TO MAKE A COPY OF THIS TAB, DELETE THE ENTIRE PROGRAM, ACCESS TO THE BATCH PRINT OPTION AS WELL AS 1 CLICK PDF SAVE, THE NEW DASHBOARD IS SURE TO MAKE PROGRAMMING EASIER FOR YOU.
Athlete Database
STORE YOUR ENTIRE ROSTER IN THIS DATABASE, INCLUDING NAMES AND ALL ATHLETES MAXES.
Advanced Exercise Database w/ Dropdowns
STORE ALL OF YOUR EXERCISES INTO A SINGLE DATABASE. WITHIN THIS DATABASE, YOU CAN EASILY CALCULATE A WEIGHT FOR ANY EXERCISE, BASED OFF THE MAX OF ANY EXERCISE. NEVER MESS WITH AN EXCEL FORMULA AGAIN TO CALCULATE WEIGHTS!
Program Database w/ Program Dropdowns
SAVE SET AND REP SCHEMES INTO AN INDIVIDUALIZED DATABASES FOR FAST AND EASY PROGRAM DESIGN.
Batch Print
PRINT YOUR ENTIRE TEAMS ROSTER QUICKLY AND EASILY TO YOUR LOCAL PRINTER WITH 1 CLICK OF A BUTTON.
Automatically Calculating Weights
THE GOLD STRENGTH TEMPLATE WILL AUTOMATICALLY CALCULATE A WEIGHT FOR BOTH MAIN AND ACCESSORY EXERCISES, BASED OFF A MAIN LIFT MAX. TO CALCULATE A WEIGHT, YOU WILL NEED TO ASSIGN A MAX AND A % TO EVERY EXERCISE, AS WELL USE A SET AND REP SCHEME THAT HAS A % ATTACHED TO IT!
BONUS: VBT & Tempo Compatible Version
EVERY PLATINUM TEMPLATE INCLUDES A 2ND VERSION THAT IS COMPATIBLE WITH VELOCITY BASED TRAINING, AS WELL AS TEMPO TRAINING.
2, 3 & 4 Day Templates
THE GOLD STRENGTH & CONDITIONING TEMPLATE INCLUDES OPTIONS FOR 2, 3 AND 4 DAY TEMPLATES IN THE SAME STYLE FOR MAXIMUM TRAINING VERSATILITY.
Other Templates Included
The platinum Strength & Conditioning Template includes a full suite of templates designed to plan, track and program your athletes training.
What have other coaches said?
Frequently Asked Questions
GOLD STRENGTH & CONDITIONING EXCEL TEMPLATE
GET THIS TEMPLATE TODAY - ONE TIME PAYMENT OF $99