Question: How many hours in the last year have you invested into learning Excel?
Are you where you want to be?  As a coach, what if you could learn what you need to know in a few hours instead of a few months?
Create Your Own Template Today
Join the ETD Membership and get exclusive access!
Learn EVERYTHING you need to know about creating an advanced strength and conditioning excel template!
Tired of spending countless hours google searching excel formulas to figure out how to make things work? Let me show you how in just a few hours.
Why YOU Should join the ETD Membership & Course
Only members will gain access to complete training courses, free templates and so much more.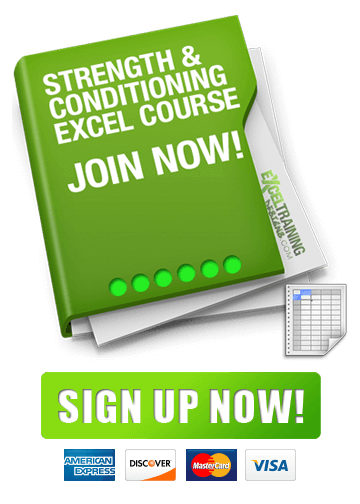 What are strength coaches saying?
Over 200 Coaches have done this course. Here is what a few have said..
The ETD "Create a Strength & Conditioning Template Course" was designed for coaches who are spending too much time creating programs, googling formulas, and just overall want to better improve the quality of their training programs.  We will show you everything you need to know, step by step, to start from a completely blank spreadsheet and turn it into a fully functional and automated training program designer.  From learning the basics of merging cells and making borders, to using VBA to create a simple batch print and save as PDF, we have something to help everyone.
Question: If you could save HUNDREDS of hours a year, would that help you?
Every time you make a program, you could be doing it faster, better and more efficiently.
We all put value on our time, and I know that many young strength coaches spend hours and hours on excel, or looking up formulas to make something work.  I want coaches to spend their time on more productive measures, and after spending literally thousands of hours on Excel myself, I put together a simple step by step course to help them do just that.  You will learn how to do databases, dropdowns, automatically calculating weights, using VBA, create testing sheets and more, and you can learn it in just a few hours.  And since we add modules every month, you are bound to find something you like 🙂
CEU Approved!
Earn .5 CEU's for creating your own Strength & Conditioning Excel Template!


Frequently Asked Questions
Get Started Today!
Don't wait, become one of the 200+ coaches that have used this to further their Excel and programming skills.